Swedish Girls
With eager anticipation I raced home last night. My mail order Swedish bride had arrived. Sure she's a little different to your average Swede (click the extended entry to see what I mean).
What is amazing is the speed with which Luuka arrived. She was sent from Sweden on January 29th, last Thursday. She arrived her in Hong Kong at our apartment in the mail on Monday, February 2nd. Regular mail. Not express or courier. Regular mail.
Which lead me to think why is that so amazing? After all, the flight from Sweden to Hong Kong is perhaps 14 hours. With a window to get the package from the post office to the plane, and another window from plane to post box here in Hong Kong the whole process really shouldn't take much longer. But Post Offices, for years, have managed to get away with slow delivery. Why should a package take more than a week to go by air mail from Sydney to London? The flight takes 24 hours - the rest shouldn't be more than a day either side.
I'm going to use Australia as an example. I know in Australia the Government forbids competition with Australia Post in packages under a certain weight (I think 100 grams). In other words the vast majority of letters. Yet in areas where Australia Post competes with couriers, they are no cheaper or faster than the competition. So what benefit is there in having a monopoly provider of postal services? None, except it enables the Government to keep open post offices in places (read country towns) where they otherwise wouldn't survive. That's not to say that Australia Post is slow - most letters arrive within 2 business days and stamps are not expensive. But why should they maintain a monopoly? Why should my letters take a week to get to London? In areas where Postal companies compete packages seem to take a lot less time.
It's another example of a Government monopoly that could do with a dose of competition. But then the Government couldn't extract large "dividends" each year.
Goddamn, she's a cute Swede, isn't she?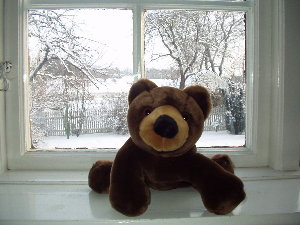 Posted by Simon at February 3, 2004 11:43 AM | TrackBack